OHIO'S PREMIER CONTRACTOR
LAKE ERIE

EROSION CONTROL
Do you need erosion control services for your Lake Erie property? Select your city to learn how we can secure your shoreline.
shoreline erosion

case studies
Eastlake Shoreline Stabilization
Erosion can take many forms. At our 2019 project in Eastlake, erosion mitigation was badly needed. The cliff edge was highly unstable and properties were at-risk. Our team stepped in to secure the severely eroded backyards of several neighbors.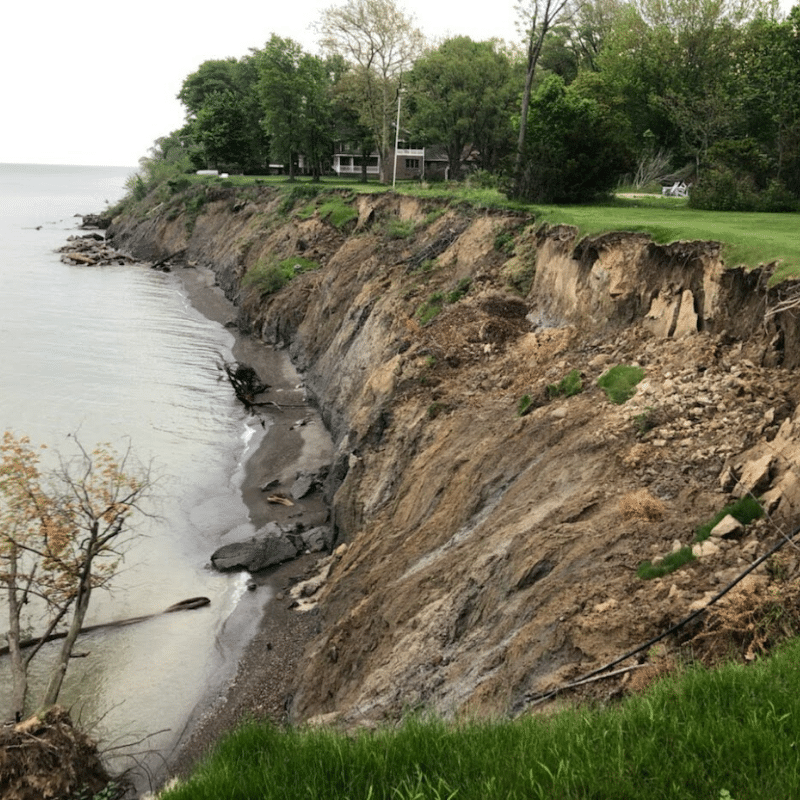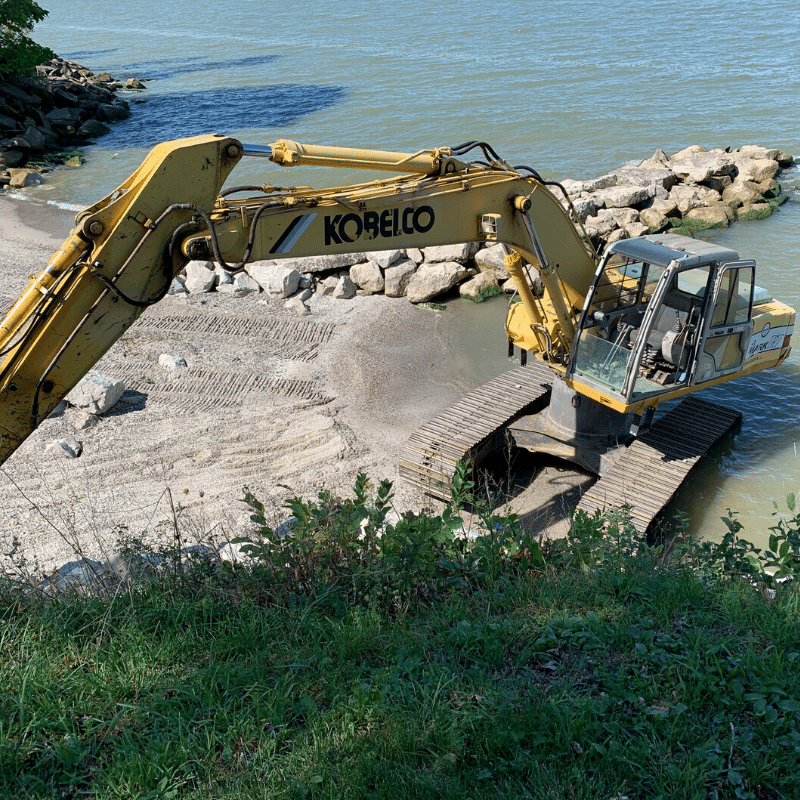 Vermilion Revetment Installation and Breakwall Repair
Existing erosion control was no longer cutting it at a local condominium complex in Vermilion. We stepped in to increase the height of off-shore break walls and protect the coastal cove against rising Lake Erie water levels. We added rock to existing off-shore breakwalls, constructed an armor stone revetment, added soil to eroded areas, and graded the slope of the area.
Ashtabula Revetment along OH-531
Lake Erie eroded a 1.5 mile stretch of shoreline against ST RT 531 in Saybrook Township for many years. We got to work placing 50,000 tons of revetment stone, widening the roadway and installing 5000′ of storm sewer. We placed the revetment stone in January 2014 after geological studies were performed and accepted.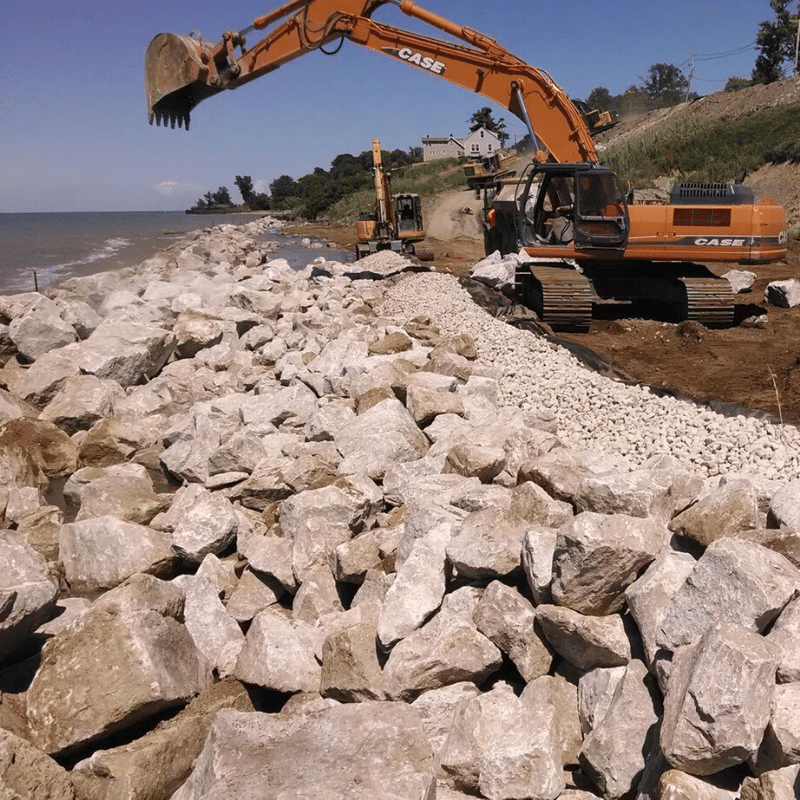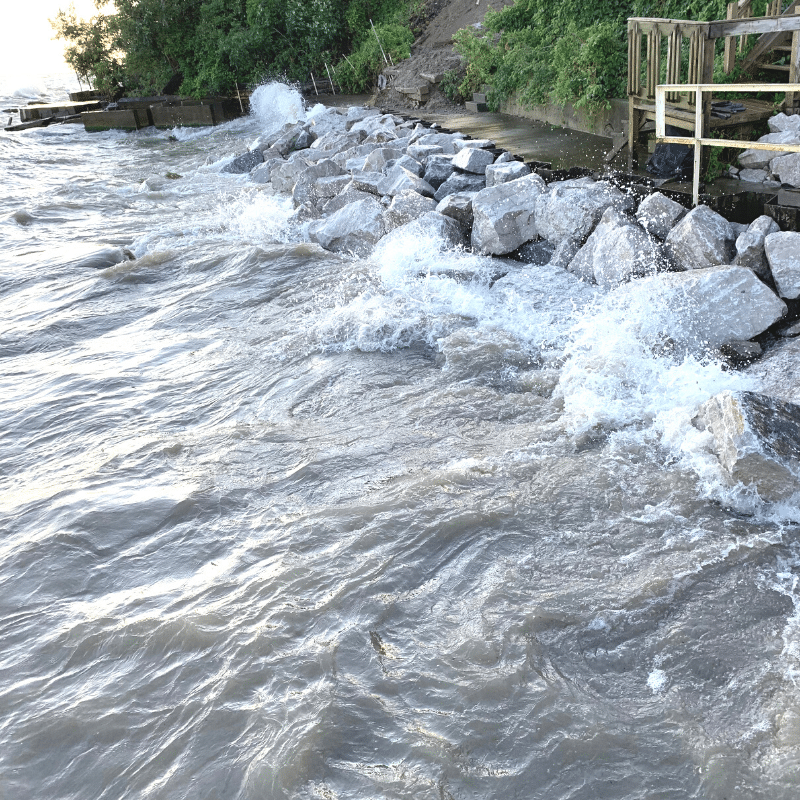 Sheffield Lake Coastal Erosion Control
We completed a series of erosion mitigation projects for several homeowners on Lake Road in Sheffield Lake. One property had an existing sheet pile wall that was failing. We
added armor rock protection in front of the sheet pile wall to disperse wave energy and prolong life of existing shoreline.
Time-Lapse Photos
Can you see the yellow pin in the photos to the right? In the bottom photo from 1994, the yellow pin is placed right along the fairly straight and even shoreline. Now, look at the top photo. The yellow pin has stayed in the same spot, but you'll see it's now located several feet out in Lake Erie. This is because erosion has eaten away nearly 100ft from the shoreline! You can see in the photos that properties with shoreline protection have preserved their shoreline, while properties without protection are steadily receding each year. 
What is the Best Solution for Shoreline Erosion?
After decades of Shoreline Erosion Control projects along Lake Erie, our crews have found that installing Armor Rock Revetments is the single most effective method to control erosion along the lakefront
The Ohio Department of Natural Resources and the U.S. Army Corps of Engineers use this erosion control design exclusively.
In some cases, we install revetments in combination with breakwalls and off-shore breakwaters to provide additional protection.
How Do Revetments Work?
Revetments work by dissipating energy from waves. When waves crash against the Lake Erie Shoreline, the energy will erode fragile soil if it isn't protected adequately.
The same is true for shelf-ice. In winter, waves push frozen blocks of ice called shelf-ice against the coast, exacerbating the rate of erosion.
Armor Rock Revetments use a combination of Army Corp-Approved Limestone, Fabric, Armor Rock, and Concrete Materials to eliminate erosion and protect against future property damage.
Revetments are an excellent option to maximize property value and cost savings.
How Long will my Erosion Control Project Take?
As much as we would like to give an exact time frame, everything from weather conditions, to ease-of-access, and the severity of your property's erosion will affect the time it takes us to complete an erosion project.
A typical single lot revetment can be completed in 1-2 weeks from the start of construction to completion, but your project could vary widely depending on your unique conditions.
Will a Revetment Installation Damage my Lawn?
We can't speak for all companies on this point, but at Mark Haynes Construction we use specially-designed mats to protect your lawn and underground utilities.
We drive our specialized earth moving equipment on these mats to guarantee minimal damage to your property.
Do I Need Engineering or a Permit?
If your project requires engineering or permitting, we offer referrals in your area.
How Much Does a Revetment Cost?
No two revetments are the same, making it impossible to disclose an accurate price range. However, below are the factors most likely to affect your final cost:
Existing Conditions – how severe is your erosion?
Amount of Material – how much square footage of shoreline needs attention?
Access – Is your property difficult to access? Will we need to access your shoreline from a neighboring property?
To maximize your savings, we recommend partnering with adjoining landowners to complete your project.
Why a Revetment and Not a Breakwall?
We offer both revetment and breakwall construction. However, many people choose to hire us for revetment construction because of the time it takes to get a permit.
A breakwall permit can take up to 2-3 years and is issued by The Army Corp of Engineers. Two to three years can make all the difference in erosion damage, causing you to lose as much as several feet from your property line depending on the area you live.
Revetment permits are available through the Ohio Department of Natural Resources and can be obtained in 1-2 weeks. For our customers who are concerned about property damage, rapid erosion, or their house falling into the lake, this time frame is much more suitable.
If you are interested in breakwall construction but are concerned about the time it takes to get a permit, you might consider having a revetment installed as a short-term erosion control plan while your breakwall permit is processed.
Is Lake Erie Erosion Getting Worse?
In recent years, Lake Erie water levels have risen to record levels, rising as much as 30" above normal in 2019.
High water levels, coupled with severe weather, ice movement, strong winds and more have accelerated erosion damage along the fragile Lake Erie shoreline.
In some areas along Ohio's northern coast, property owners have lost up to 100 ft of shoreline property.
If you're concerned about losing acreage, property damage, or even your house falling into the lake, we can help.
Shoreline erosion is preventable with a properly installed revetment. And the best part? Revetments are very low-maintenance or maintenance free. One revetment we installed in Sheffield Lake has been maintenance free since 2008.
Why wait?
start your project
quote today.
Fill out the form below and a member of our management team
will contact you right away. Site assessments cost $500.