Lake Erie
Erosion Control

Sandusky
Are you battling Lake Erie Erosion in Sandusky? Whether you live near Cedar Point, Downtown Sandusky, Lion's Park, or beyond, we understand the urgency you might feel if Lake Erie erosion is damaging your property. A failing shoreline can make you feel unsafe, even in your own home. That's why at Mark Haynes Construction, we construct highly-durable shoreline protection measures. We build revetments approved by the army-corps of engineers, custom-designed breakwalls, long-lasting piers, and more.
Our crews of trained professionals have decades of experience working on the Lake Erie shoreline near Sandusky. And, with rising water levels in recent years, we're completing an ever-increasing number of coastal erosion control projects near you. Are you ready to learn more about starting your erosion control project? Keep scrolling to learn more.
Re·vet·ment /

rəˈvetmənt

/
1. A sloping structure placed on banks or cliffs in such a way as to absorb the energy of incoming water.
2. An aggregate of Army Corps-approved limestone rocks and concrete laid on specially-designed fabric; fabric protects fragile soil along the coast and prevents materials from migrating.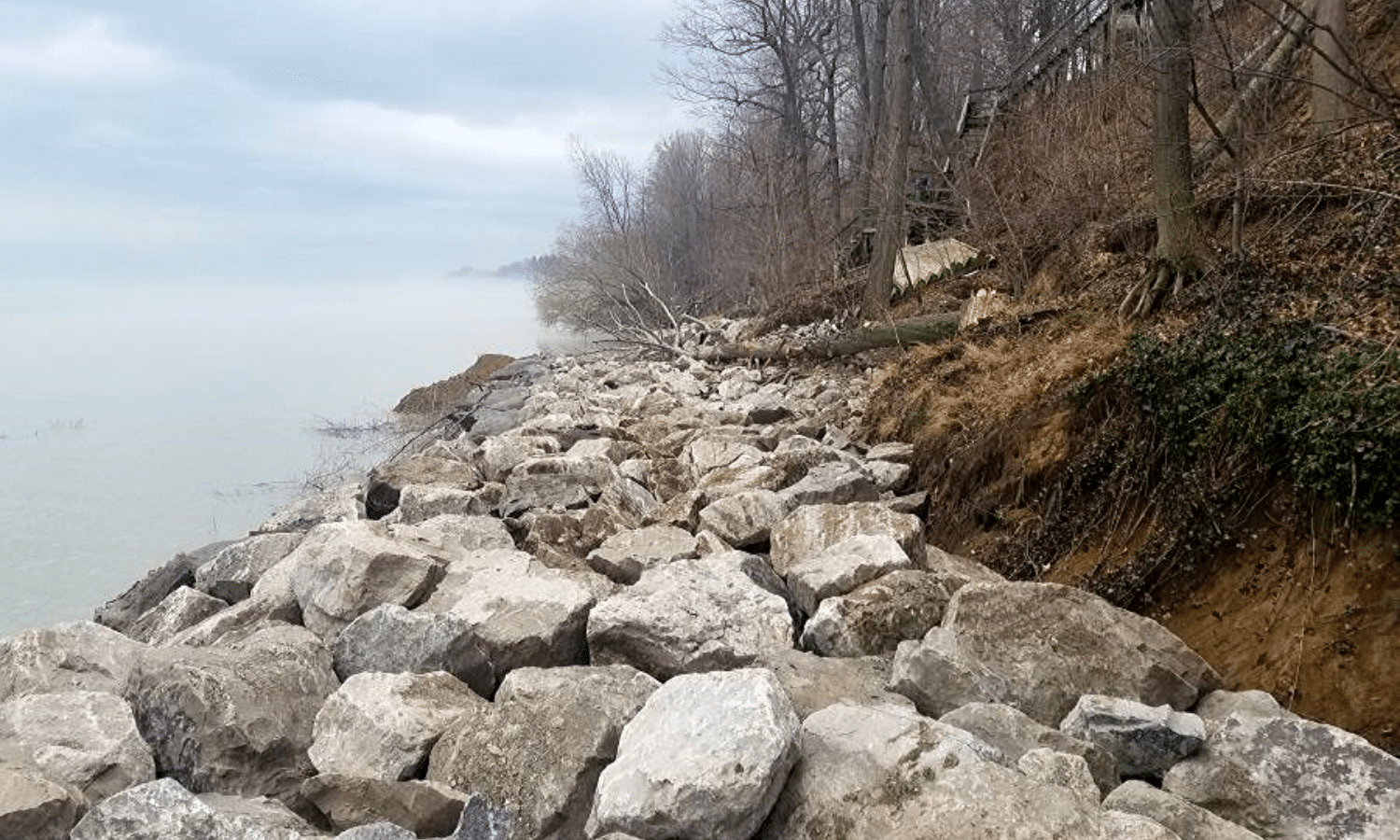 "All work was done with great skill and precision. The workers were dependable, timely, competent and friendly. Contractor Haynes did all as promised and at the promised price. The work space was left clean and in good order. Very impressive!"
"Crews were here at 7:00 every morning and stayed till 7:00 on some nights to finish…they were extremely professional and answered any question we might have…we are extremely pleased with the outcome and would highly recommend."
"Mark Haynes did a fabulous job on our revetment! We are extremely pleased with their work. We would highly recommend them."
shoreline Protection

Services
Revetments
We construct durable, long-lasting revetments designed by the Army Corps of Engineers.
Site Assessments
We'll visit your property, assess the damage, and provide a quote. Service fee: $500.
Grading
Our team can regrade your beach front property according to your exact specifications.
Permitting
If your project requires engineering or permitting, we offer referrals in your area.
Breakwalls
Need breakwall repairs or installation? We provide full-service construction and maintenance.
Lawn & Utilities Protection
We use specialized mats to protect your lawn and underground utilities from our heavy machinery.
Our Past Erosion Projects Near Sandusky
 When severe coastal erosion threatened Cedar Point Road on the Chaussee, we acted fast.
We constructed a significant armor stone revetment to protect Cedar Point Road and private properties and eliminate frequent road closures.
We also completed a multi-stage project at Lion's Park to stabilize the eroding shoreline behind the local park.
CEDAR POINT CHAUSSEE
The Cedar Point Chausee faced a severe coastal erosion problem.
Residents on Cedar Point Road faced frequent road closures, and the street suffered severe rock damage from powerful Lake Erie wave action.
Our crews constructed a significant size revetment in 2019, utilizing 23,700 tons of Rock Armor over approximately 4,200 linear feet of shoreline. 
With the new revetment constructed, road closures are a thing of the past, and homeowners on the Chaussee can rest easy knowing their property is safe from coastal erosion, severe weather, and road access issues.
LION'S PARK, SANDUSKY
We worked with Lion's Park to correct the erosion control problem that threatened the shoreline. Our crews completed a two-phase revetment project utilizing approximately 1000 tons of 601A and 601B rock to stabilize the 420 feet of eroding shoreline behind Lions Park. 
Our scope of work included reshaping the bluff, keying in armor rock, and laying fabric as a separation barrier to hold the armor rock in place and protect the fragile bank.
We completed this project in 2019.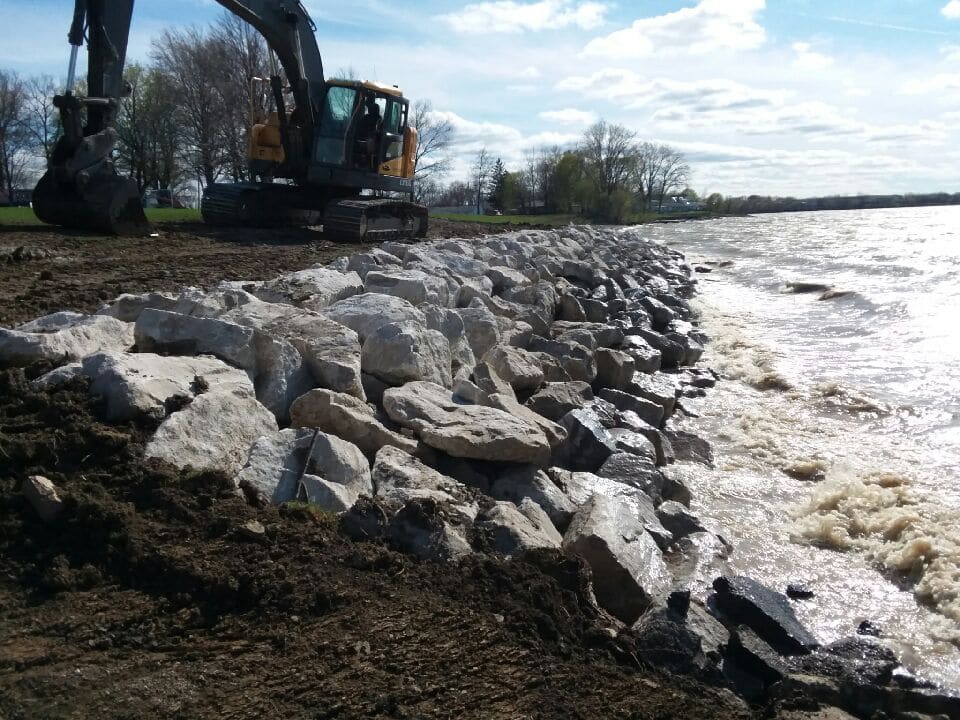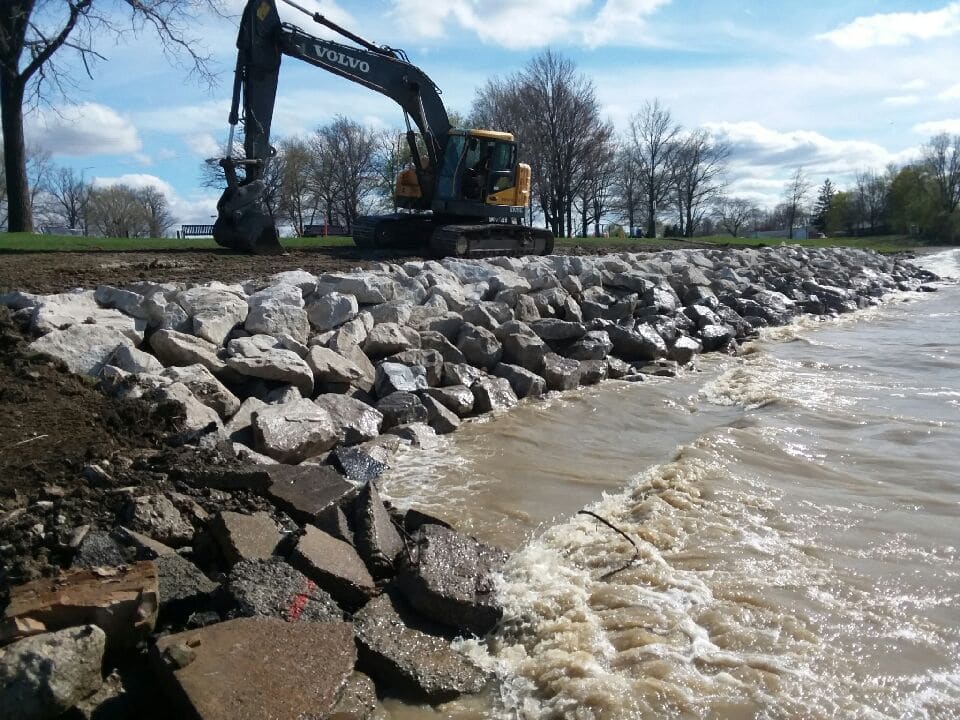 learn more

sandusky 
erosion control
What Method of Shoreline Protection Do You Recommend?
After decades of completing Coastal Erosion Control projects, we have found that Armor Rock Revetments are one of the most effective and time-sensitive methods of controlling property deterioration along the lakefront.
The U.S. Army Corps of Engineers and the Ohio Department of Natural Resources both use and recommend armor stone revetments to control erosion along Lake Erie.
In addition to revetments, we also offer services to install breakwalls and off-shore breakwaters to enhance your shoreline and provide additional protection. If your property is at risk due to a failing sheet-pile wall, exposed soil, or inadequate shoreline protection, our team of experienced professionals can help.
Is Coastal Erosion Getting Worse Along the Lake?
The short answer is, yes. In recent years, Lake Erie water levels have risen to record levels – as much as 30" above average in 2019. High water levels, in combination with severe weather, leads to accelerated erosion in exposed areas along the lakefront.
We've seen Ohio homeowners who have lost up to 100 ft of shoreline since the early 1990's. If you're concerned about property damage, losing acreage, or even your house falling into the lake, we can help.
Coastal erosion is preventable with an adequately installed revetment. And the best part? Our Armor Stone Revetments are very low-maintenance or maintenance-free! One revetment we constructed in Sheffield Lake has been maintenance free since we built it in 2008.
Why a Revetment and Not a Breakwall?
As a full-service marine contractor, we regularly construct both revetments and breakwalls, as well as a variety of other coastal erosion control projects. However, many people choose to hire us for revetment construction in large part because of timing.
A breakwall permit can take up to 2-3 years to be processed by The Army Corps of Engineers. We've found two to three years can make all the difference in property damage along the lakefront. In this time, your property could deteriorate inland by as much as several feet depending on the area you live in.
However, it only takes 1-2 weeks to obtain a revetment permit. Revetment permits are available through the Ohio Department of Natural Resources, and for our clients facing rapid erosion, this time frame is often a much better fit.
Are you interested in a new breakwall, but you're concerned about the time it takes to get a permit? You might consider installing a new revetment as a short-term erosion control plan while your breakwall permit is processed.
For maximum shoreline protection and beautification, breakwalls often work best in combination with a revetment.
How Will a Revetment Protect my Property?
Revetments work by dissipating wave energy. With a properly installed revetment, waves crash against limestone rocks weighing 3-6 tons, rather than your fragile soil or failing sheet pile wall. 
In winter, revetments work by protecting your property against powerful ice pushes that often pose the most significant threat to lakefront property.
Will I Need to Get Engineering or Permitting?
ODNR has a straightforward permitting process for Revetments that we can partner with you to apply for. If your project requires engineering or additional permitting, we offer referrals in your area.
What is Your Procedure for Constructing a Revetment?
If you decide to partner with us for a new revetment, here's the project schedule we like to stick to:
Complete Initial Site Assessment and Provide a Quote

Secure Necessary Permitting

Take Precise Measurements & Provide a More Accurate Estimate

Find the best Access Point to Your Shoreline

Build a Staging Area for our Materials and Equipment

Install your New Armor Rock Revetment

Repair your Erosion Damage
Re-slope the Grade of your Property
Reseed Your Grass, if Necessary
Clean Up and Leave Using Specialized Mats to Protect your Lawn & Utilities
Our #1 priority is to install your armor rock revetment as soon as possible to protect your property against additional damage. After we've stabilized your shoreline, we'll work with you to regrade the slope of your property and make any further changes to your property according to your specifications.
Will Installing a Revetment Damage my Yard?
We do everything possible to protect your lawn and utilities against damage from our heavy machinery. We can't speak for all companies on this point, but our teams use specially-designed mats to protect your lawn and underground utilities.
We drive our specialized earthmoving equipment on these mats to ensure minimal damage to your property.
How Long Does it Take to Install a Revetment?
Every coastal erosion project is different. We would love to give an exact time-frame, but unfortunately, everything from weather conditions to ease-of-access, and the severity of your erosion will determine your project schedule.
On average, a typical single lot revetment takes us 1-2 weeks to complete from the start of construction to completion. Keep in mind that we custom-design every project, so your revetment schedule could vary. We'll be happy to provide a more accurate time frame if you call for a site assessment. 
How Do You Install a Revetment?
Revetments are constructed using 3-6 ton Army Corps-Approved Armor Rock Limestone, Concrete Materials, and Special-Designed Fabric.
To install a revetment, our teams start by laying down specialized fabric to protect your soil along the shoreline.
You can think of the fabric we lay as a seal that protects your soil and keeps the rock and concrete aggregate in place.
After we've laid the fabric, we then cover it with an aggregate of concrete and 3-6-ton army corps-approved limestone rocks, called toe rock. 
How Much Does a Revetment Cost?
Because no two revetments are the same, it's impossible to provide a general price. After we've seen your property, we'll be able to provide a reliable estimate.
Here are the factors that are most likely to affect costs:
Amount of Materials – How much square footage of shoreline needs to be covered?

Existing Conditions – How severe is your erosion damage?

Ease-of-Access – Is your shoreline challenging to access? Will we need to obtain access from a neighboring property?
If possible, we highly recommend that you partner with adjoining landowners to maximize your cost-savings.
Ready to sign up for your $500 site assessment? Scroll to the bottom of this page to fill out a contact form, and we'll be in touch.
Check out examples of our recent projects below. We've worked in a variety of weather conditions and circumstances to complete projects quickly and on-budget.
Why wait?

schedule your site assessment today.
Fill out the form below and a member of our management team
will contact you right away. Site Assessment Fee: $500.