Huron Coastal 
Erosion Control
Lake Erie Erosion control
Huron
Are you battling Lake Erie Erosion in Huron? Do you need a new revetment, breakwall, or pier to protect your property?
At Mark Haynes Construction, we understand the urgency you might feel if you have an eroding shoreline in your backyard. Erosion can make you feel unsafe, even in your own home. Our team of heavy equipment operators and constructors are here to protect your lakefront property and keep you safe.
After decades of stabilizing the fragile north coast, we have found armor stone revetments to be a safe, cost-effective solution to reduce and eliminate erosion along the Lake Erie coast. This method of shoreline protection was developed by the army-corps of engineers and provides a lasting solution for coastal erosion.
"All work was done with great skill and precision. The workers were dependable, timely, competent and friendly. Contractor Haynes did all as promised and at the promised price. The work space was left clean and in good order. Very impressive!"
"Crews were here at 7:00 every morning and stayed till 7:00 on some nights to finish…they were extremely professional and answered any question we might have…we are extremely pleased with the outcome and would highly recommend."
"Mark Haynes did a fabulous job on our revetment! We are extremely pleased with their work. We would highly recommend them."
Our Erosion Projects in Huron
Our team of experienced shoreline constructors and equipment operators have completed multiple erosion control projects in Huron.
Have you ever visited Chaska Beach in Huron or the City Municipal Boat Ramp off Cleveland Road? We completed work at both of these sites to combat coastal erosion and enhance property value and tourism in Huron. Click the buttons below or use the map to explore our shoreline projects in Huron. 
CHASKA BEACH, HURON
Chaska Beach is a fantastic, private beach community in Huron. It's located less than a mile from the public boat ramp and truly an oasis on the lake with neighborhood amenities, including a nearby marina, basketball and tennis courts, a playground area, and more.
We helped to protect this lovely private beach and neighborhood, by installing an armor stone revetment at the beach along the shoreline. The existing Armor Stone Revetment was failing because undersized stone was used.
We installed properly sized toe rock to protect the beach against damaging erosion for years to come.
HURON PUBLIC BOAT RAMP
Located on the city of Huron's harbor front, our work at Huron City Municipal Boat Ramp consisted of constructing a four lane boat ramp and launch facility, handicapped-accessible docks, restrooms and parking for 135 vehicles/trailers.

We completed extensive shoreline work to ensure the safety and preservation of this boat launch site in Huron and oversaw reseeding and planting for the beautification of the park.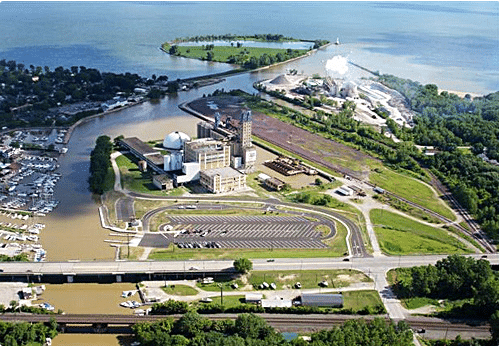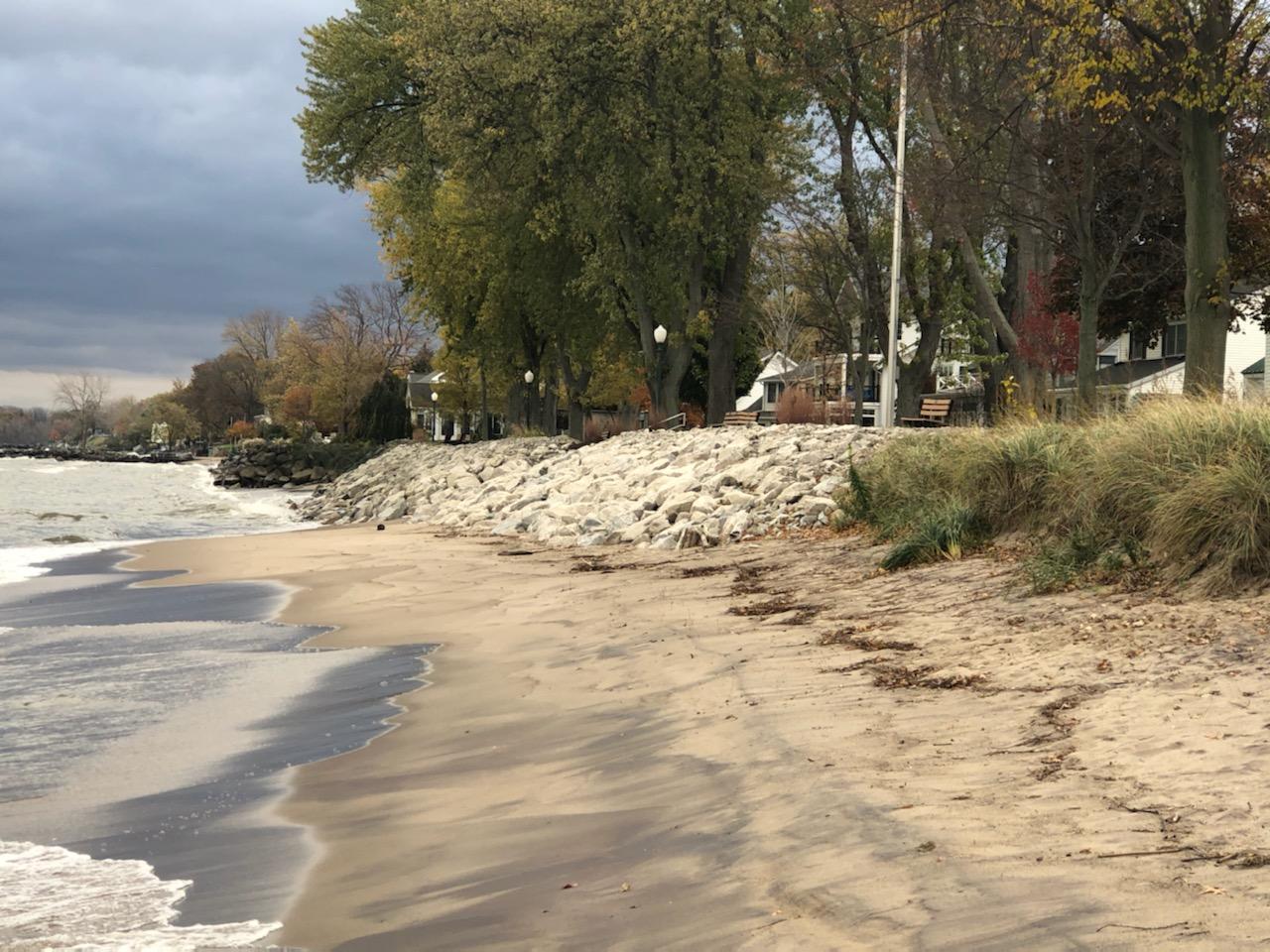 shoreline Protection

Services
Revetments
We construct durable, long-lasting revetments designed by the Army Corps of Engineers.
Site Assessments
We'll visit your property, assess the damage, and provide a quote. Fee: $500.
Grading
Our team can regrade your beach front property according to your exact specifications.
Permitting
If your project requires engineering or permitting, we offer referrals in your area.
Breakwalls
Need breakwall repairs or installation? We provide full-service construction and maintenance.
Lawn & Utilities Protection
We use specialized mats to protect your lawn and underground utilities from our heavy machinery.
What's Your Process to Install a Revetment?
If you decide to work with us for a new revetment, here's the process you can expect:
First, we secure all necessary permitting.

Next, we take measurements of your property and give you a quote.

We start our work by finding an access point to your shoreline.

Then, we build a staging area for our materials and machines.

After building a staging area, we get started on your revetment ASAP.
After your revetment is complete, we repair any erosion damage.
Then, we can re-slope your grade.
At the end of the project, we can reseed your grass, if needed.
Finally, we clean up and leave using specialized mats to keep your lawn and underground utilities safe (you can check out a photo of this below.)
Our top priority is to install your armor rock revetment as quickly as possible to protect your property from further erosion damage. After we install your revetment, we'll work with you to make additional changes to your property according to your specifications.
What is the Best Method of Shoreline Erosion Control?
We've completed Shoreline Erosion Control projects for decades and have found Armor Rock Revetments to be the best choice for many of our erosion control clients.
Revetments can be constructed quickly, are long-lasting, and offer a cost-effective and low-maintenance solution to shoreline erosion. This reliable method of erosion control is recommended by The U.S. Army Corps of Engineers and the Ohio Department of Natural Resources for coastal erosion in the Great Lakes Region.
In addition to revetment installations, we also build breakwalls and off-shore breakwaters. These methods are also excellent options to enhance your shoreline and protect your property.
How are Revetments So Effective?
If fragile soil is left unprotected at the shoreline, wave action, and shelf-ice gradually erode the soil away over time. When powerful waves crash against the soil, it can fail in the form of drop-offs, and land collapses. When the ground fails and gives way to the water, it creates unsafe conditions and leads to receding property lines if left unaddressed.
Revetments are highly-effective because they dissipate powerful wave-action and shelf-ice. When a properly-installed revetment is in place, it acts as a barrier between the crashing waves on Lake Erie and the fragile soil onshore.
Revetments protect against ice movement as well as wave action and are made of Army Corps-Approved Limestone, Fabric, Armor Rock, and Concrete Materials.
How Do you Install a Revetment?
To install a new revetment, we start by laying down specialized fabric to protect the soil along the coast.
This fabric works twofold. First, it acts as a heavy seal to protect the soil. Second, it holds the revetment in place and keeps all materials from migrating.
After we've laid the fabric, we cover it with an aggregate of concrete and 3-6-ton army corps-approved limestone rock, called toe rock. And that's how we build a revetment.
Armor Stone Revetments are known for withstanding huge waves and ice pushes and provide a long-term solution for beach protection.
How Long Does It Take to Build a Revetment?
Unfortunately, everything from weather conditions to ease-of-access, and the severity of erosion damage will determine the time it takes to complete an erosion control project.
On average, we complete single lot revetments in 1-2 weeks from the start of construction to completion. However, your project could vary significantly. If you schedule a site assessment, we'll be able to provide a more accurate time frame.
Will Installing a Revetment Damage my Yard?
We understand how much time and energy goes into maintaining a top-notch lawn. That's why at Mark Haynes Construction, we drive our earthmoving equipment on specially-designed mats to protect your lawn and underground utilities.
Lawn and Utility damage is always possible during heavy earthmoving projects, so we take every precaution to mitigate the risk of damage.
Do I Need Engineering or a Permit for a Revetment?
ODNR has a straightforward permitting process for revetment installations. We can partner with you to apply for one of these permits.
If your project requires engineering or additional permitting, we offer select referrals in your area.
How Much Does a Revetment Cost?
It's impossible to provide an exact price, or even a range for revetment installation because no two are the same. Here are the factors we've found to affect your final cost the most:
Your Conditions – How severe is your erosion?

The Amount of Materials Required – How much square footage of shoreline needs attention?

Ease-of-Access – Is your shoreline challenging to access? Will we need to obtain access from a neighboring property?
If it's possible, we recommend partnering with neighboring landowners to maximize savings on your erosion control project.
Why a Revetment and Not a Breakwall?
We build both revetments and breakwalls, so why a revetment? We've found that many of our clients choose to hire us for revetment construction because of the time it takes to get a permit.
Breakwall permits typically take 2-3 years and are issued by The Army Corps of Engineers. Two to three years is an extended amount of time and can make all the difference when trying to preserve as much of your property as possible while facing erosion damage. In 2-3 years, we've seen homeowners lose as much as several feet from their property lines.
That's why revetments are a preferred and recommended option. Revetment permits are available through the Ohio Department of Natural Resources and can be obtained in a quick 1-2 weeks. If you're concerned about property damage, or your property is eroding rapidly, a revetment may be the right choice for you.
Are you interested in a new breakwall, but the permit time frame doesn't work for you? You might consider installing a revetment as a short-term erosion control plan while your breakwall permit is being processed.
Is Lake Erie Erosion Getting Worse?
Homeowners on the lakefront have always dealt with erosion in certain areas along the coast. Years of exposure to wave-action and shelf-ice has always caused erosion and drop-offs in areas where the land is exposed and gives way into the water.
However, Lake Erie water levels have risen to record levels in recent years. Water elevations were as much as 30" above average in 2019.
Higher lake elevations have increased erosion along the shoreline. These high water levels, coupled with severe weather, ice movement, strong winds, and more, are accelerating the rate of erosion significantly depending on where you live along Lake Erie.
In some areas along Ohio's northern coast, property owners have lost up to 100 ft of shoreline property over time.
Shoreline erosion is preventable with an adequately installed revetment. And the best part? Revetments are very low-maintenance or maintenance-free.
If you're ready to learn more about coastal erosion control for your lakefront property, call us today at 419-663-2457 or scroll to the bottom of this page to fill out a contact form. 
Check out examples of our recent projects below. We've worked in a variety of weather conditions and circumstances to complete projects quickly and on-budget.
Why wait?

schedule your site assessment today.
Fill out the form below and a member of our management team
will contact you right away. Site Assessment Fee: $500